Document Type : Perspective
Authors
1 Department of Environment, Land and Infrastructure Engineering (DIATI), Politecnico di Torino, Turin, Italy.
2 Energy CenterL, Politecnico di Torino, Turin, Italy.
3 Department of Economics and Statistics "Cognetti de Martiis", University of Turin, Turin, Italy.
4 School of Business and Law, Edith Cowan University, Joondalup, Australia.
5 Department of Management, University of Turin, Turin, Italy.
Abstract
The Ukraine war has immensely affected both food and energy systems due to the significant role of Russia in supplying natural gas and fertilizers globally and the extensive contribution of both Russia and Ukraine in exporting grains and oilseeds to the international markets. Hence, the Ukraine-Russia conflict has resulted in a shortage of crops and grains in the food market, especially in Europe, causing speculations if these resources should still be used for biofuel production (1st Generation). However, the International Energy Agency has warned that lowering biofuel mandates could result in rising petroleum demand and supply concerns. In light of these unfolding events, a systems thinking approach is required to monitor and analyze the implications of this crisis for food and biofuel markets as a whole to alleviate the concerns faced and plan sustainably. In this vein, based on the trade-offs between food system elements and the biofuel supply chain, as well as the potential effects of the war on the food and energy systems worldwide, a causal loop diagram is developed in the present work. According to the insights provided, the key to preventing food insecurity and keeping biofuel mandates on an increasing trend simultaneously amid the Ukraine war is to switch from the 1st Generation biofuels to higher generations. This transition would reduce not only the pressure on the food market to move toward zero hunger (SDG 2) but also pave the way to move towards a circular economy and clean and affordable energy (SDG 7) during the post-war era.
Graphical Abstract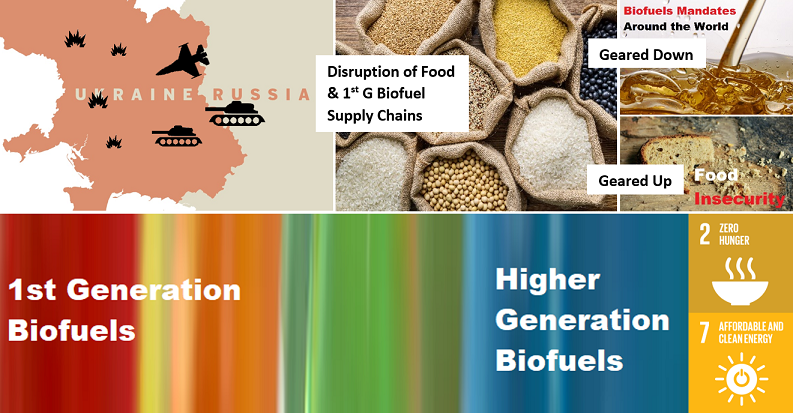 Highlights
The Ukraine-Russia war has significantly impacted food and energy markets.
A systemic approach is needed to analyze the war implications for the market.
Transition from 1st generation biofuels to higher generations is key to balancing the already volatile market.
The war has directly and adversely influenced achieving the SDG 2 and SDG 7.
Keywords