Document Type : Perspective
Author
1 Joint Graduate School of Energy and Environment, King Mongkut's University of Technology Thonburi, 126 Prachauthit Rd., Bangmod, Tungkru, Bangkok 10140, Thailand.
2 Center of Excellence on Energy Technology and Environment (CEE), Ministry of Higher Education, Science, Research and Innovation, Bangkok, Thailand.
3 School of Postgraduate Studies, Diponegoro University, Semarang, Central Java 50241, Indonesia.
4 Department of Environmental Sciences and Engineering, Gillings School of Global Public Health, University of North Carolina, Chapel Hill, NC 27514, USA.
Abstract
Bio-based materials have been used traditionally for millennia. Their use was overtaken in recent times by the discovery and utilization of fossil-based resources for materials and energy. However, concerns about the non-renewability of fossil resources and greenhouse gas and other emissions associated with their use have brought forth a renewed interest in using bio-based materials in recent years. The environmental advantages of bio-based materials cannot be taken for granted without a rigorous scientific assessment. Many tools based on energy, economics, and environmental impacts have been used. Life cycle assessment is one such tool developed and successfully utilized for the environmental assessment of biofuels and bioproducts. However, many methodological challenges, among other things related to system boundaries, functional units, allocation, and carbon accounting, still need further research and consideration. In this work, the related issues are summarized, and the directions for addressing them are discussed. Despite the methodological challenges in their assessment, biofuels and bioproducts show promise in terms of their environmental advantages compared to their fossil-oriented counterparts. These advantages can be further enhanced by utilizing all parts of the feedstock biomass, especially for value-added materials and chemicals via biorefineries.
Graphical Abstract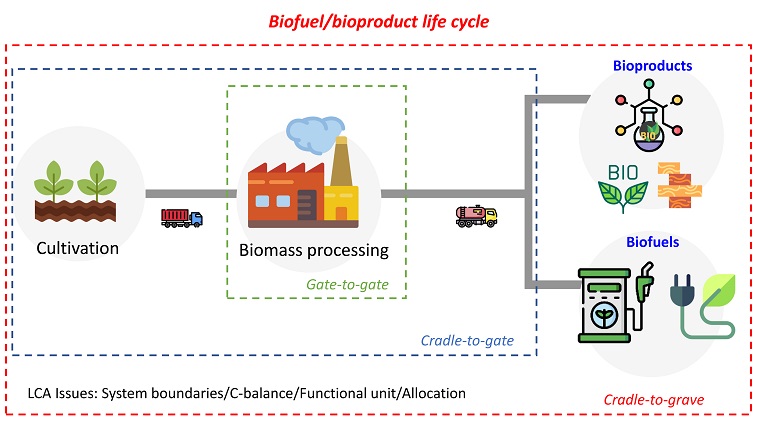 Highlights
Methodological challenges faced when applying life cycle assessment are critically discussed.
Life cycle assessment is essential to ensure the potential benefits of biofuels and bioproducts.
Biorefineries can enhance the environmental performance of biofuels and bioproducts.
Balancing carbon emissions from a life cycle perspective needs dynamic assessment.
Keywords