BRJ`s International Advisory Board Member; Professor Seeram Ramakrishna received the prestigious 2015 IFEES President`s Award. Read More here!
2015-07-28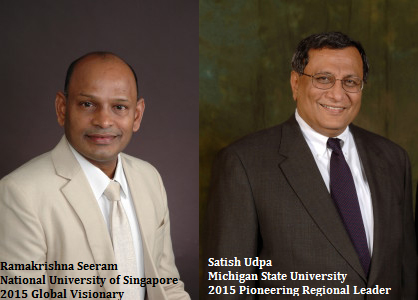 On July 17, 2015, IFEES President, Uriel Cukierman, announced the two recipients of the 2015 IFEES President's Award. Established in 2012 by then IFEES President Krishna Vedula, the award seeks to honor individuals who made significant contributions to the global engineering education community.
We are pleased to announce that BRJ`s International Advisory Board Member; Professor Seeram Ramakrishna was one of the recipients of the prestigious IFEES President's Award.
Over the past 15 years, Professor Seeram Ramakrishna has been serving the global engineering community in various capacities which includes Founding Chair of Global Engineering Deans Council (GEDC); Vice-President of International Federation of Engineering Educator Societies (IFEES); and Board Member of Asia Society for Innovation & Policy (ASIP). The author of the book "The Changing Face of Innovation" was identified by Thomson Reuters as one of the World's Most Influential Scientific Minds. Professor Ramakrishna is a Highly Cited Researcher (www.highlycited.com). A European Commission study places him among the top four researchers of Singapore. He authored 6 books, and ~ 700 international journal papers which attracted ~ 45,000 citations and ~ 100 H-index. He received PhD from the University of Cambridge, UK and the general management training from the Harvard University, USA. He received numerous recognitions from around the world which include IFEES President's Award–Global Visionary; ASEAN Outstanding Engineering Achievement Award; IES Prestigious Engineering Achievement Award; China Changjiang Scholar and Guongdong Leading Talent; India Nehru Fellowship and Singapore Lee Kuan Yew, LKY Fellowship. He is an elected International Fellow of major professional societies and academies of Singapore, India, UK and USA. His university leadership includes National University of Singapore (NUS) Vice-President (Research Strategy), Director of NUS Enterprise, and Dean of Faculty of Engineering.
The winners will be presented their awards at the IFEES Awards Dinner during WEEF 2015 in Florence, Italy on September 22nd.
Read the official announcement on the 2015 IFEES President's Award website